This site provides a multitude of information on the care and keeping of dairy goats, with an emphasis on a natural and humane approach. These pages contain information on all aspects of goat raising and goat care including: health & husbandry, feeding, medications, wormers & worming, natural, herbal & holistic health care, breeding, kidding, milking, behavior, how-to instructions, free downloads, and much more.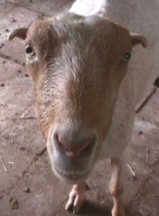 This web site is intended to aid the reader in the care and keeping of dairy goats. In my methods, I emphasize natural & holistic health care and treat our animals with the love, dignity and the respect they deserve.
This site is dedicated to all those who want to learn how to raise your goats in a loving and humane manner. This is my gift of "metta" (loving kindness, compassion and friendship) to you
The information presented here reflects the way I do things . There are as many ways to raise goats as there are people who own goats. It is helpful to know how others do things, and with this knowledge you can then develop your own way of raising goats that works best for you and your own situation.
In loving memory of Goldie, matriarch of our herd, wonderful friend, and the most extraordinary animal I will ever have the honor to have known.
Tribute Essay: Goldie- Queen of Goats
Goat Care Information, Health & Husbandry and Assorted Other Tibits


Getting Your Goat

If you are considering about getting a goat, please read this page.
Also see:

Goat Stories & Other Essays
by Molly

Goat Short Stories & Eassays:

Other Essays:

Normal Goat Health Information

Temperature

= 102.5 - 104 - This varies depending on the temperature of the goat's surroundings.

Pulse rate

= 70 - 80 beats per minute

Respiration

=15 to 30 per minute

Rumen (stomach) movements

= 1 - 1.5 per minute

Puberty

= 7 weeks - 8 months (separate bucks from does at 2 month)

Estrus/Heat Cycle

= 17 to 23 days

Gestation

= 143 to 155 days

Life span:

Does

= 11-12 years average age, but... usually the death in does is kidding related. Does that are "retired" from breeding around age 10 live longer: 16-18 years (and I just recently found a doe who was 24; she was retired from kidding at age 10).

Wethers

= 11-16 years average age

Bucks

= 8-10 average age - bucks usually live shorter lives than does and wethers due to the stresses of going into rut each year.

Full growth size:

Most goats do not reach their full size until they are about three years of age. (They keep growing for about three years)

General
Information & Care

ALL GOATS OF
ANY AGE

Kids (young goats)
Does (females)
Bucks (intact males)
Wethers (neutered males)

Also see individual sections listed below

Age- How to estimate a goat's age by looking at their teeth
Breeds of goats- The most common breeds found in the US.
Breeding : Female Goats
Build your own Goat Stand Free download instructions
Diseases & Health Issues (see below)
Drenching & Dosing- Giving medications and herbs orally
Fat or overweight?- How can you tell if your goat is fat?
Feeding & Supplements - What we feed and how we feed it.

Colostrum: What is it and why do baby goats need it?
Also See:

Fencing- The types of fencing I use:

Electric Fence:

What kind of wire?
What kind of fence charger?
Grounding
Safety
Putting up the fence

Fencing for Bucks - Woven wire + electric
Fencing for security
Photo examples of how we put up our fence

Friendly kids- If you've been told you must bottle raise to get friendly kids, this is not necessarily true. We do not bottle raise and our goats couldn't be more friendly and loving. Here's how we do it.
Getting Your Goat- Recommendations on choosing which goat that is right for you.
Giving medications and herbs orally- Dosing & Drenching
Goat Stand - Build your own
Goats as Pets- Does and wethers make excellent pets. Bucks do not.
Goats vs. Cows- Why I prefer goats as family milkers.
Health Care, Vaccination & Worming Schedule- This is the schedule that we follow.
Hobble / Restraint- this goat hobble is the Milk Maid's life saver when it comes to kicky milkers.
Hoof Trimming- 4 pages containing 17 photos detailing hoof trimming. Since these pages are photo intense, please be patient while they load.
Housing - Tour our barn
Horns- Why you do not want your goat to have horns.
Medical Cabinet Supplies- This page contains the supplies that I make sure to always have on hand.
Medications (Modern) - A large listing of medications and the correct dosages used for goats.
Medications (Natural)- herbs, homeopathic remedies and natural alternatives.
Milk & milking information- scroll down to Milk & Milking
Nanny / Nannies - This is an old term referring to a female goat. We do not use this term any longer. It is more respectful to refer to female goats as "doe / does".
My first goat - a lesson in what now to get
Pets- Information about getting goats as pets.
Questions & Answers
Registered vs. Non-Registered - should you get registered/papered goats?
Selling Goats- Things to think about and how I sell my own goats.
Supplies- This page contains the general goat supplies that I make sure to always have on hand.
Tattooing- How to tattoo a goat in the tail.
Terms - Definitions of goat related terms
Vaccination, Worming & Health Care Schedule- This is the schedule that I follow.
Wattles- What are those fleshy, furry, hangy down things that some goats have on their necks? They are called wattles. Wattles are merely "goat jewelry". Some goats have them, some do not. They serve no real purpose but adornment.
Worms & Wormers- You have to worm your goats. Here is the info you need to know.
Weight Chart- Estimate your dairy goats weight by using a measuring tape.

Information, Care & Health issues

DOES (adult females)
&
KIDDING (having babies)




Please note:
Does should NEVER be housed with bucks. If you "run" does and bucks together, you will never know when to expect kids, you won't be able to prepare for the kids, and you will risk loosing them.

Information, Care & Health issues

KIDS
(baby goats)

Information on horns

Disbudding Q&A, hints and comments.

Information, Care & Health issues

BUCKS (intact males)
&
WETHERS (neutered males)


Please note:
Bucks DO NOT make good pets. You DO NOT want a buck for a pet. Please read this page to find out why.

Wethers make excellent pets.

Billy / Billies - This is an old term referring to an intact male goat. We do not use this term any longer. It is more respectful to refer to an intact male goat as "buck / bucks ".
Bucks- Before you get a buck, please read this page!
Diseases & Health Issues (see below)
Health Care & Worming Schedule- This is the schedule that we follow.
Neutering

Dairying and cheesemaking- Info on goat milk, articles on milk handling and cheesemaking, recipes.
Drying off- How to dry off your doe (stop her from making milk)
Goat Milk- Nutritional breakdown
Hobble / Restraint - this goat hobble is the Milk Maid's life saver when it comes to kicky milkers.
How to Milk a Goat - Step by step instructions
Milking: The Procedure, Sanitation & Equipment- A walk through of the entire milking procedure, what basic equipment you need and how to sanitize it.
Milk- Nutritional breakdown- Nutritional breakdown of Goat Milk and it's comparison to Cow Milk and Human Milk, with reference to look up particular infant formulas.
Milk Sack - The proper term is "udder" not "milk sack".
Milk Stand - Build your own. Free instruction download
Milk record keeping Keeping records of how much milk your doe produces.
Milk & Milking related- General information; how-to. Questions & Answers
Milking once a day-I only milk once a day, here's how I do it.
Taste- Properly handled goat milk is sweet, delicious and wonderful, tasting just like whole milk from the grocery store (if not better). It should not be bitter, bad tasting or "bucky". If your goat's milk is "off" there must be a reason. Here are reasons the goat's milk may not be tasting correct.
Teat Dip- This homemade dip is just as good, if not better than "store-bought".
Udder Information and Q&A - Also see Milk & Milking Page
Udder wash- Recipe for homemade udder wash.

Diseases and Health Issues

Health Care, Vaccination & Worming Schedule- This is the schedule that I follow.

All See:

Medications:

Natural Health, Healing & Alternative Medicines

Natural Health, Healing & Alternative Medicines & Herbals - Main Page




This is my other web site providing information on natural practices and the use of herbs, herbal formulas & natural supplements used in the holistic care of your dogs, cats, goats, horses, other pets & animals.

These are my personal herbal formulas and treatments that I have developed to use as part of the holistic natural care I give my own animals. Sales from the Molly's Herbals site help support the Fias Co Farm web site.

Free Downloads

Build Your Own Milk Stand / Goat Stand
The first thing you need when you start to keep goats is a good milk stand / goat stand.




Breeding / Kidding Record Spreadsheet & Calculator
This is an Excel based Spreadsheet / Template that we have created for you to use to keep track of your herd breeding a

Recipes

Eggshell Powder (for calcium)
Goat Milk Soap - A plain and simple recipe for homemade soap.
Homemade Dog Food - Mable's Meat Loaf: nutritionally complete meat loaf meal for dogs.
Goat Wipes - I like to keep these homemade "goat wipes" (baby wipes) in the barn for lots of uses such as cleaning up goatbabies, goat butts and wiping my hands.
White Wash - You can make your own white wash to brighten up your barn.
Yogurt - Make yogurt as simply without the use of special equipment.

Sweater Pattern

Sweater Pattern-
You can knit your own goatbaby sweaters. Included here are patterns for a knitting machine, hand knitting and crocheting.

Miscellaneous Information

Terms
Videos
A goat giving birth